DailyTelegraph ci mostra una nuova foto di Robert Pattinson, Guy Pearce e il regista David Michôd sul set di The Rover.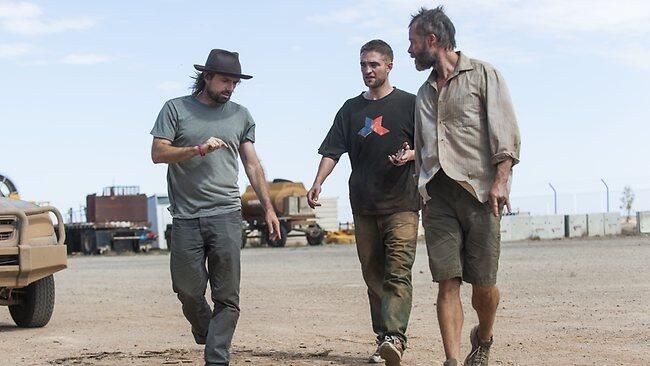 Ed ecco anche qualche dichiarazione di Rob sul film e sul suo ruolo.
Rob dice che "E' molto strano. C'è qualcosa di strano sull'intera relazione". Continua parlando del perchè abbia scelto questo film: "Aveva una sceneggiatura originale ed era una di quelle parti che pensi 'mi piacerebbe farlo, ma non verrò preso!'" Del suo personaggio, Rey, dice: "E' il tipo di persona che crede di non poter essere indipendente. C'è sempre qualcuno che lo segue".
Il regista del film dice di Rob: "E' intelligente, e non è solo il "ragazzo carino" come pensavo. La mia scelta è caduta subito su di lui!"
'It's very odd," Robert Pattinson says. "There's something strange and disturbing about the whole relationship." 

The Twilight actor is talking about the two characters at the heart of his new film, The Rover, which finished shooting on Saturday in outback South Australia.

He plays a young man, Rey, caught up in an uneasy, dangerous alliance with a stranger, Eric (Guy Pearce), in a not-too-distant future.

The Rover is the much-anticipated new film from David Michod, the writer-director of Animal Kingdom. The title refers to Pearce's character: damaged, solitary, utterly without hope.

Pattinson has been casting his net widely since his lead role in the wildly successful Twilight movies brought him celebrity and a certain amount of paparazzi attention. He's quick and sometimes self-deprecating, and has a surprisingly hearty laugh. Looking for roles post-Twilight, he says, "I don't know if I'm necessarily any good at sculpting a career or anything. But I know what I want to do."

He wanted to be part of The Rover because "it was an original script and it was one of those parts where you read it and you think, 'I'd love to do this, but I know I'm never going to get it."'. There, "already self-defeating before I've even started", he says.

In this film, he's a long way from the debonair 19th-century Frenchman of Bel Ami or the New York billionaire of Cosmopolis, two of his recent roles. The near-future that Rey inhabits has a broken-down, improvised, desperate feel, and Pattinson's appearance is in keeping: unkempt and unshaven, with make-up that discolours his teeth.

Rey is an American who has come to Australia with his brother. He is, Pattinson says, "the kind of person who has been brought up to believe they're incapable of living independently. Someone has always been looking after him." When he's separated from his brother, "almost the first person that comes along, he grabs them. It doesn't matter how he gets treated". And Eric treats him very badly at first.

The Rover was shot over seven weeks, ending with more than a fortnight in the remote small town of Marree, 685 kilometres north of Adelaide, whose population of 90 more than doubled with the presence of the movie crew. Almost every part of Marree has been incorporated into the world of the movie. The filmmakers said it felt like their own Hollywood studio backlot.

The Rover takes place "in an unspecified relatively near future, after a number of years of quite seriously steady Western economic decline," Michod says. "It's not post-apocalypse. This is an Australia that has broken down into a kind of resource-rich Third World country."

He did not start with the idea of this near-future, but with the enigmatic, shifting relationship between the two central characters. He wrote the role of Eric for Pearce, but did not start thinking about Pattinson until they met in Los Angeles.
He had not – and still has not – seen any of the Twilight films, but had been told that Pattinson was interesting. He found Pattinson was "really smart, and not the sort of pretty boy I was expecting. As soon as it was time to start testing… he was my first choice, by a long way."
Dal The Daily Telegraph:
Robert parla del suo aspetto nel film: "Aggiunge un sacco alla performance – essere sporco, sudato, e con tonnellate di mosche intorno. Si perdono le proprie inibizioni rapidamente!" E poi aggiunge sulle location di The Rover: "Questo è un bene, in qualche modo. Si finisce per fare un film diverso. Essere nel deserto ha un effetto divertente. Ti cambia in un modo. "
Edward Cullen wouldn't last five minutes in the baking heat of Marree, a one-pub town 650km north of Adelaide.
But Robert Pattinson has channelled the physical discomfort of his seven-week summer shoot in the middle of the Aussie Outback into a character he hopes will make an equally indelible impression as the Twilight vampire.

"It's added lots to the performance – being covered in dirt, pouring sweat, with tons of flies around. You lose your inhibitions quite quickly," the English star said on the set of his latest film, The Rover, in which he sports a crude DIY haircut and badly-decayed teeth.

A neo-western set in a brutal, anarchic near future, the $12 million film is director David Michod's hotly anticipated follow-up to the internationally acclaimed Animal Kingdom.

Guy Pearce plays the title character, an embittered outsider with whom Pattinson's naive victim forms an uneasy alliance.

Marree, population 90, is about as far from Hollywood as an actor can get.

"That's good in some ways," Pattinson says. "You definitely end up making a different movie. Being in the desert has a funny effect. It does change you in a way."

Pattinson confirmed his participation in three upcoming projects: Werner Herzog's Queen of the Desert with Naomi Watts and Jude Law; Maps to the Stars, a comedy directed by David Cronenberg (Cosmopolis); and Hold Onto Into Me with Carey Mulligan.
Thanks to RobPattinsonLife